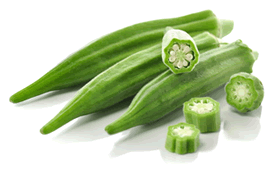 In African-American culture, there are several signature foods that may be eaten to ensure that the New Year gets off to the right start.  Two of my favorite foods for this are black-eyed peas and okra.  Black-eyed peas are said to be essential in order to bring "good luck" in the New Year; okra is a vegetable that is used in soups and stews – including gumbo and black-eyed peas.  When prepared well, okra not only offers many medicinal properties, but also tastes delicious.
Okra has some mucilaginous properties.  For some people, it can be described as downright slimy!  But this mucilaginous property makes okra great for cleansing and healing the digestive system.  It soothes inflammation in the entire digestive tract, adding quality moisture to the system.
Okra aids the small intestine in the proper absorption of nutrients into the blood stream.  It also helps promote more pro-biotic activity in the digestive tract.  In short, okra can be very helpful for problems like Irritable Bowel Syndrome, gastro-intestinal ulcers, constipation, Crohn's disease, malnourishment, malabsorption, stomach flu, high blood sugar, toxicity and sluggishness in the liver/gallbladder, heartburn and gas.
Now you can take matters in your own hands by eating great food in the New Year!  Check out the following easy okra recipe, contributed by my good friend and Tai Chi sister, Robin Rinehart.  Thank you, Robin, for this delicious recipe!!
Robin's Happy New Year Okra
Use fresh okra only. No frozen because the frozen gets gushy and slimy.
Ingredients:
2 to 3 pounds of fresh okra
Salt and pepper (I used Himalayan pink salt and freshly ground pepper)
5 or 6 cloves of garlic
1 onion
1 tablespoon turmeric (fresh or powdered)
1/4 cup olive oil
1/4 cup sake
1/2 teaspoon Amchur powder (dry mango powder)
Clean the okra beforehand.  Cut off the blunt end and after washing, and wrap the okra in paper towels to extract the moisture.
In a large skillet, heat the olive oil.  Add turmeric and cook with the olive oil stirring until blended (about a minute)
Add chopped garlic and chopped onion.  Stir until onions and garlic are soft.
Add okra and salt and pepper (to taste) and stir just until okra is coated with the onion/garlic mixture.
Add sake, cover, and let it all cook on medium heat for about 5 minutes.  The trick is to NOT keep stirring up the okra. This is what will keep it crisp and not turn mushy.
Sprinkle Amchur powder over top and lightly stir the okra once or twice to blend in the powder.
The Amchur powder is optional. It has a strong flavor and I suggest you try a little on your finger first to taste.  I happen to think it gives the okra a bit of a zing!
Serve and eat!