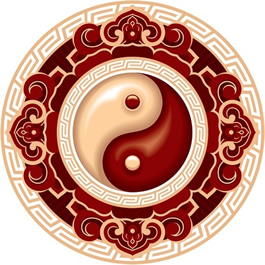 I have recently returned from a week-long Tai Chi Spring Intensive training in Idyllwild. Master Tung Kai Ying taught a wonderful group of us to go deeper in understanding and moving through the various Tai Chi forms we have been learning. It was indeed inspiring! It was hard work, but also a great respite. The clean, mountainous setting of Idyllwild was ideal – fresh, cool air and water, lots of sunshine, and great camaraderie.
Tai Chi Chuan is a moving meditation originally practiced by the Chinese for the past few millennia. Also known as shadow boxing, Tai Chi is a widely practiced martial art that physically develops balance and coordination, as well as enhances emotional and physical health. Tai Chi combines deep diaphragmatic breathing and relaxation with slow and gentle movements, both isometric and isotonic, while maintaining good posture. The movements flow almost imperceptibly from one into another with grace and beauty.
There are numerous styles of Tai Chi Chuan to choose from. The most widely practiced are Yang, Chen, Wu and Sun styles. The movements range from very slow and large to quick and compact. Each style also employs various exercises and has several forms within the one style. For example, Yang style has several standing meditations, slow forms, fast forms, and several other martial arts practices, sometimes using weapons such as knives or swords, and sometimes with an opponent. In fact, Tai Chi Chuan is considered a martial art much in the same way as Kung Fu, Aikido or Capoeira.
Tai Chi is part of a larger philosophy and way of living that strengthens the body, eases emotional stress, and facilitates an acceptance of one's own peace. That larger philosophy is incorporated by traditional Chinese medicine, and more specifically, the concept of Qi (pronounced chi). Qi is the life force energy that flows through each of us. When this energy is in abundance and flows properly, an individual is generally in good health, not only physically, but also mentally, emotionally and spiritually. If the Qi becomes depleted, blocked or stagnant, imbalance and illness will usually result.
Tai Chi builds energy in order to maintain an abundance of Qi, and also to keep the energy flowing properly in the body.
The benefits of Tai Chi Chuan are numerous. As a meditation, it calms the mind, allowing one to become more focused and in tune with the Higher Self. Many studies have been done, both in the East and the West, as to the positive health benefits of Tai Chi. Equivalent in aerobic activity to walking about 6 kilometers per hour (3.5-4.0 miles per hour), Tai Chi helps to lower blood pressure, ameliorate cardiovascular function and improve or facilitate breathing.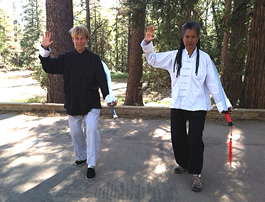 The slow, deliberate movements lubricate and strengthen the muscles and joints, break up stagnation and allow for the smooth flow of Qi, thus making this a wonderful exercise for those with osteoarthritis or rheumatoid arthritis.
Regular practice also helps in the prevention of osteoporosis and improves balance, thereby reducing frailty and falls. Its meditative and exercise components indeed make Tai Chi helpful for all types of chronic conditions, as well as to maintain good health.
While it is true that people who are approaching their elder years tend to be more attracted to Tai Chi Chuan, this moving meditation is for people of all ages. Tai Chi Chuan is a great way to achieve and maintain a strong, supple, flexible, youthful and peaceful body, mind and spirit.
Back at the Academy here in Los Angeles, I find myself loving Tai Chi Chuan more than ever. My body feels stronger, my mind clearer and calmer. I endeavor to maintain and grow in that strength and calmness. I know that there is really only one way to do this: Diligent Practice.
Resources:
Tung Kai Ying, Learning Tai Chi Chuan. Kai Ying Tung Academy of Tai Chi Chuan, Los Angeles: 2012